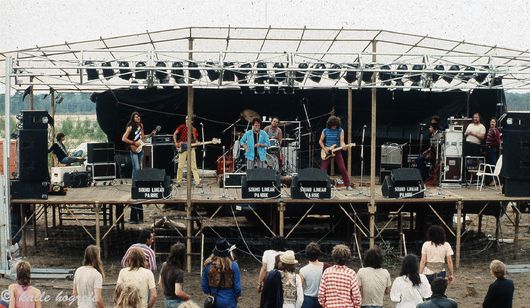 It is the year 1977. Two young, enthusiastic technicians are on the road with the band "EPITAPH". Full of energy and thirsty for action, they quickly acquired a sound system and named their new company "Sound Linear". From time to time, they worked together with the, simultaneously founded, company "Lightpower"– the first company for stage-light rentals in the region. At the same time, there were even more people on the road – crazy about music and thirsty for action. On the one hand, a young man, 
and his sound system, were touring with a band called "BELA BARTOK". On the other hand, two committed spring-chickens were working for the "Reiner Schöne Band" as technicians for the band equipment. It was fate's humour and a lucky coincidence that, one night, just this band played at the live club "Takt" in Paderborn where precisely these five young men now met. They got to know each other, became friends and quickly realised that their equipment complemented each other nicely to a beautiful whole. They, then, moved together from Hanover to Paderborn, took over the equipment of "Reiner Schöne Band" and by simply combining everything, built a PA-rental from scratch. So, 1978 was the year in which 14 so-called "Martin-Stacks" and "Soundcraft" desks (Series 1 & 2b) formed the basis for "Sound Linear".
In the meantime, one of the founders has already left the company (apparently something to do with money and future prospects). Another left the company after moving from Schloss Neuhaus (a nice neighbourhood; it was a wonderful experience to carry the equipment from the lorry to the warehouse in the middle of the night) to Salzkotten – distance to your next-door-neighbour: 300m. Who was left? Peter Molzen, Guido Sehrbrock and Kalle Hogrefe who are still passionately running the company today.